New Maple Heroes
You've probably already met some Maple Heroes already: characters like Emily, Derek, Edward. But now you can call on even more Maple Heroes to help you on your adventures.
To recruit more Maple Heroes, click on the Shop button then click on Hero Cards.
Each deck has a different assortment of Maple Heroes from which to choose.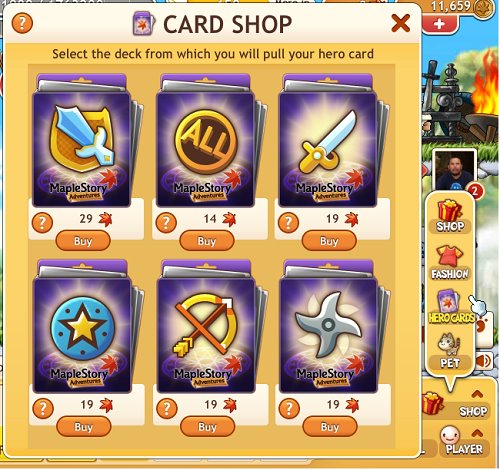 When you receive your Maple Hero, he or she will appear in your friends bar.
You can see details about your Maple Hero by clicking the Info button that appears when you mouse-over the Maple Hero. You can also access details by clicking on My Stuff then on Maple Heroes.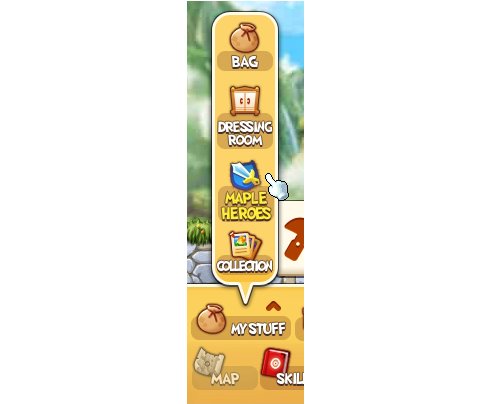 You will be taken to the Maple Heroes page.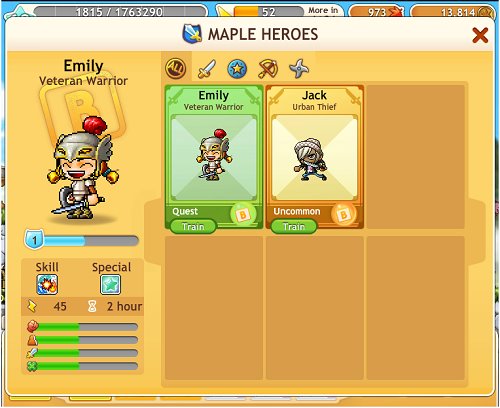 Here you can see what stats and skills your Maple Heroes have, their pets and the monsters they've tamed. Also, each Maple Hero has a unique buff (e.g. increases your Dodge rating) which you can also see here.
You can also train your Maple Heroes so they are even more effective.
Training can be accessed from either the Maple Heroes page or from the info panel on the friends bar. Remember to train them regularly!
Player Marketplace
You can now buy and sell Gears and Items at the Adventurer's Marketplace!
If you have something you don't want anymore (like a high level Gear that doesn't match your class), you can sell it in the Marketplace. First talk to Wang in your Home.
In order to place something for sale in the Marketplace, you will need to purchase a pass from Wang.
Once you've purchase the pass, click on Wang again. You can now put Gears and Items up for sale. Just click on the item and set the quanity and price per unit.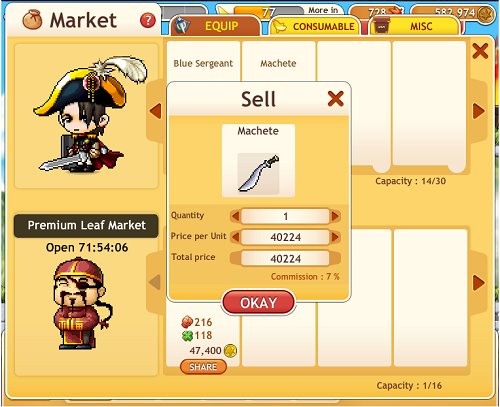 To check out what's for sale in the Marketplace, click on the the messageboard next to Wang.

This will open up the Marketplace search window. You can search by different classes and levels for Gear. You can also sort by items that your friends are selling by clicking the "Friend's item only" checkbox in the top right of the window.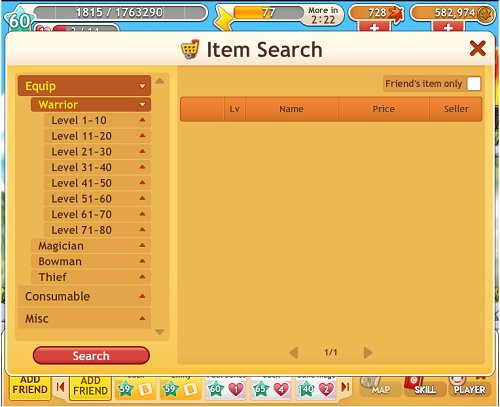 Other changes
Your Home has been rearranged slightly to make room for Wang and the Adventurer's Marketplace board. But don't panic, everyone is still there.
Bug Fixes
Various bug fixes and improvements have been implemented.
Ad blocker interference detected!
Wikia is a free-to-use site that makes money from advertising. We have a modified experience for viewers using ad blockers

Wikia is not accessible if you've made further modifications. Remove the custom ad blocker rule(s) and the page will load as expected.