The Pet Manager can be found in every city.

If you talk to her you can choose from 2 options. Pet Hotel, or Pet Shop.
Pet Hotel
Edit
Here you can store your pet(s). If you have more then one, you can swap them also. She will keep the other(s) safe for you!
All of your pets will be visible in the Pet Hotel. You can chose to store one, to take out another.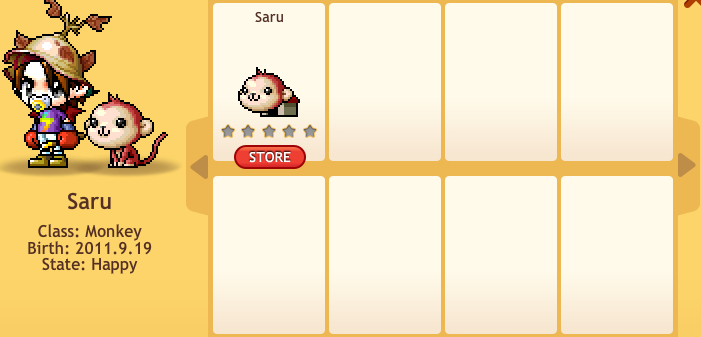 Once you bought a pet, you can share a bonus with your friends!

Player just adopted a Pet!
Player just adopted a lovely Pet and would like to share the joy with friends!
Pet Abilities
Edit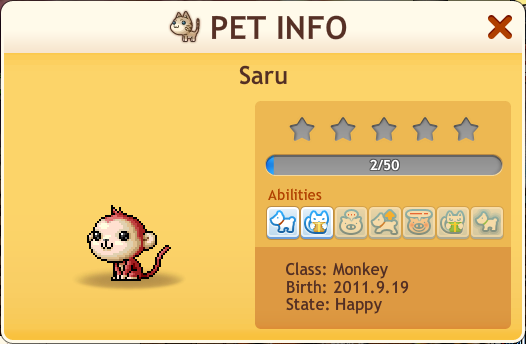 You can earn mastery stars for your pets too. Every star means you leveled up your interaction once. You can level up interaction by Playing (every 4h), or Feeding your pet with Pet Food. It doesn't matter wich pet you get, they all start with 2 basic abilities:
Follow: Your Pet follows you around.
Basic Fetch Item: Your Pet fetches items near you.
Every new ability requires a higher level.
| Star | Ability | Description | EXP needed |
| --- | --- | --- | --- |
| 1 Star | Basic Talk | Your Pet can say some basic words | 50 |
| 2 Stars | Pet Speed Up | Your Pets movement speed increases by 20%. | 100 |
| 3 Stars | Advanced Talk | Your Pet can say some scentences. | 170 |
| 4 Stars | Advanced Fetch Item | Your Pet fetches items better. | 280 |
| 5 Stars | Pet Glow | Your Pet will glitter. | 400 |
Ad blocker interference detected!
Wikia is a free-to-use site that makes money from advertising. We have a modified experience for viewers using ad blockers

Wikia is not accessible if you've made further modifications. Remove the custom ad blocker rule(s) and the page will load as expected.