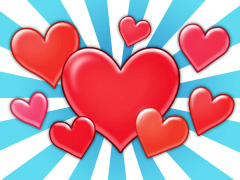 Heart XP
is gained by hiring friends. You get 1 for each hire and re-hire and you can get up to 5 more per friend per day by visiting and helping them in their
Home
map. Each
Heart Level
gives prizes.
Every 10 heart levels also adds 1 energy to the energy you have when you are hired by your friends. You start with 10 energy at Heart Level 0, which increases to 11 energy at Heart Level 10, and so on.

Player reached Heart Lv. #!
Player has become Heart Lv. # with your help and wants to share the love with free EXP!
Multiple Hire allows you to hire more then one Friend at the same time.
Level Rewards
Edit
Ad blocker interference detected!
Wikia is a free-to-use site that makes money from advertising. We have a modified experience for viewers using ad blockers

Wikia is not accessible if you've made further modifications. Remove the custom ad blocker rule(s) and the page will load as expected.