Boss Monsters are the periodicly spawning monsters that are unusually strong for their level. Unlike normal monsters, boss monsters have a set spawn rate after it has been defeated that varies per boss. When a boss monster dies it is marked with a tombstone which marks the time left until respawn. The amount of Maple Leaves it takes to revive it, is the same as the respawn time (eg. 2 hours = 2 Maple Leaves).
Each Boss Monster has its own collection. Unlike normal monsters, they have a collection which gives you a fashion item.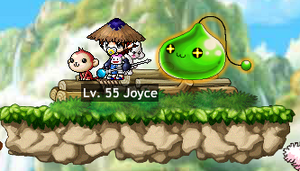 Just like
normal monsters
, Boss Monsters are also masterable. The total is 5 stars. When you hit them once, they will show up as
Encountered
.
With only a 100 kills, you have them tamed and they will walk along with you. It takes 200 kills to fully master a Boss Monster which will cause it to glow.
| Level | HP | Drops | Spawn | EXP |
| --- | --- | --- | --- | --- |
| 9 | 4660 | | 2 Hours | 450 |

| Level | HP | Drops | Spawn | EXP |
| --- | --- | --- | --- | --- |
| 30 | 12070 | | 12 Hours | 1080 |

| Level | HP | Drops | Spawn | EXP |
| --- | --- | --- | --- | --- |
| 62 | 43000 | | 12 Hours | 3000 |

| Level | HP | Drops | Spawn | EXP |
| --- | --- | --- | --- | --- |
| 15 | 6560 | | 4 Hours | 630 |

| Level | HP | Drops | Spawn | EXP |
| --- | --- | --- | --- | --- |
| 35 | 14145 | | 12 Hours | 1230 |
| Level | HP | Drops | Spawn | EXP |
| --- | --- | --- | --- | --- |
| 50 | 21095 | | 12 Hours | 1680 |

| Level | HP | Drops | Spawn | EXP |
| --- | --- | --- | --- | --- |
| 20 | 8280 | | 12 Hours | 780 |
| Level | HP | Drops | Spawn | EXP |
| --- | --- | --- | --- | --- |
| 30 | 12070 | | 12 Hours | 1080 |

| Level | HP | Drops | Spawn | EXP |
| --- | --- | --- | --- | --- |
| 20 | 8280 | | 12 Hours | 780 |

| Level | HP | Drops | Spawn | EXP |
| --- | --- | --- | --- | --- |
| 40 | 16340 | | 12 Hours | 1380 |

| Level | HP | Drops | Spawn | EXP |
| --- | --- | --- | --- | --- |
| 58 | 40000 | | 12 Hours | 1920 |

| Level | HP | Drops | Spawn | EXP |
| --- | --- | --- | --- | --- |
| 25 | 10115 | | 12 Hours | 930 |

| Level | HP | Drops | Spawn | EXP |
| --- | --- | --- | --- | --- |
| 45 | 18660 | | 12 Hours | 1530 |

| Level | HP | Drops | Spawn | EXP |
| --- | --- | --- | --- | --- |
| 55 | 15530 | | 12 Hours | 1320 |

Sanctuary
Edit
| Level | HP | Drops | Spawn | EXP |
| --- | --- | --- | --- | --- |
| 69 | 71120 | | 12 Hours | 1320 |

| Level | HP | Drops | Spawn | EXP |
| --- | --- | --- | --- | --- |
| 72 | 84768 | | 12 Hours 30 Minutes | 1620 |